With profound sadness, UNFPA, the United Nations Population Fund, announces that its Executive Director, Dr. Babatunde Osotimehin, passed away suddenly at his home on the night of June 4, 2017.  He was 68 years old.
With heartful thanks, UNFPA Thailand appreciate messages below for condolences for the passing away of Dr. Babatunde Osotimehin, Executive Director of UNFPA, from our UN colleagues and our supportive partners.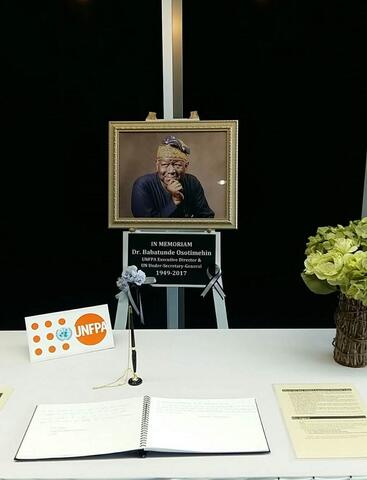 To share our grievance for this loss, you are welcome to write on the book of condolences for Dr. Babatunde Osothimehin at the Delegates Lounge Area on Level 1 of the United Nations Conference Centre (UNCC), Bangkok.
Read more our press release on UNFPA mourns passing of Executive Director here and Statement by United Nations Secretary-General on the death of Babatunde Osotimehin here.