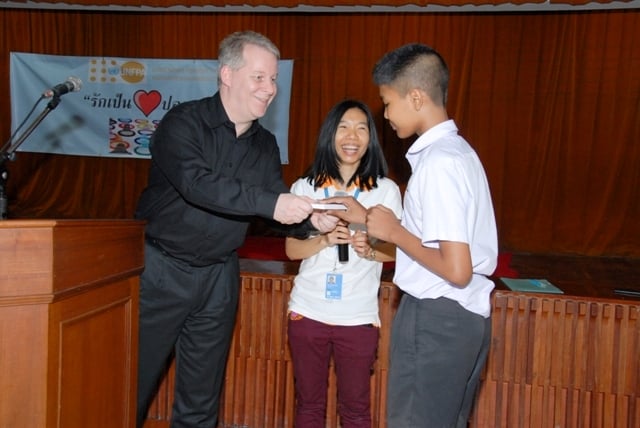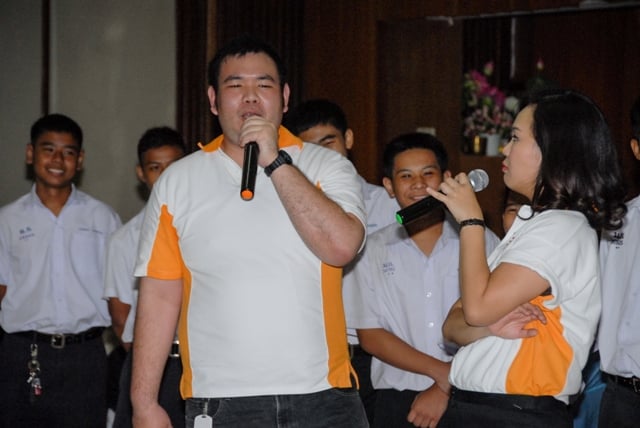 The school activity was designed to be an entry point to reach out to the schools to promote the age-appropriate sex education. Sex talk is still regarded as taboo in Thai society even though Thai teenagers start having sex at around 16 on average, and one out of every 10 Thai teenage girls has been pregnant at some point.
The school activity included discussions with a celebrity romance novel writer, teenage parents and the director of the Planned Parenthood Association of Thailand. Students were particularly interested in the segment when two teenage parents shared their experience with the students. Ms. Pimluck Pawan, 18 years old, was pregnant with her future husband when she was 16. She said, "Today, I am glad to share my experience with the students. It opens an opportunity for students to learn about sex."
Suwat Kuptavaethin, a 27-year-old single dad whose child was born when he was 19, said, "I believe that if young people know how to protect themselves, they will have better opportunities in life." Suwat left school after his girlfriend gave birth in order to provide for them.
One day before the school activity, UNFPA and the Office of the National Economic and Social Development Board (NESDB) organized a press forum entitled "Fewer Births, Smarter Investments". The half-day event was organized to raise public awareness of the World Population Day and the theme "Adolescent Pregnancy" this year. The event features three speakers with different backgrounds to share their insights on the population change, namely Dr. Sethaput Suthiwart-Narueput, Executive Chairman of Thailand Future Foundation, Mr. Kosit Pampiemras, former Deputy Prime Minister, and Mr. Mechai Viravaidya, Chairman of the Population and Community Development Association (PDA). The three speakers made continued references to the need to invest in young people and prevent unwanted pregnancies, particularly among adolescents, as a factor for economic development as well as social development.
The third event sponsored by UNFPA around WPD was the annual Reproductive Health Conference organized by the Ministry of Public Health Ministry. This conference, attended by around one thousand senior health personnel from all over the country, drew attention to the planned Reproductive Health Bill, as well as the continued challenges of maintaining the correct contraceptive method mix, particularly for young people.
Finally, UNFPA and the Rockefeller Foundation co-sponsored a conference entitled "Population and Society in ASEAN: Challenges and Opportunities". The one-day event was organized by Institute for Population and Social Research at Mahidol University, and the keynote address was delivered by Dr. Surin Pitsuwan, former Secretary-General of the ten-country ASEAN Community, who deftly integrated RH statistics to make the case for smarter investments in younger generations. The academic seminar aimed to enhance the knowledge and discussion about the implication of population change in ASEAN, particularly focusing on issues of migration, changing family structures and ageing in many ASEAN member states, and how these processes might be affected by the upcoming ASEAN Economic Community in 2015.