BANGKOK -- Dr. Babatunde Osotimehin, Executive Director of UNFPA, the United Nations Population Fund, met today with Prime Minister Yingluck Shinawatra of Thailand, to discuss the implications of the country's changing population and future cooperation between the UNFPA and the Royal Thai Government.
Dr. Osotimehin met Thailand's first female head of Government while he was in Bangkok to attend the Sixth Asia and Pacific Population Conference at the United Nations' regional centre here. More than 400 representatives from 40 countries were exchanging views on population issues facing Asia-Pacific region as part of an effort to shape the global population agenda for the future.
 
During the meeting at the Government House, the UNFPA leader congratulated the Prime Minister for Thailand's success in achieving both economic prosperity and social development, saying it can serve as example for other countries. He also commended Ms. Yingluck for her Government's recent commitment to provide health care to migrants from other countries.  Noting that migration has become a key challenge in the region, he said it is critical to ensure that migrants are covered by social protection programmes such as health services, including for HIV prevention.
Prime Minister Yingluck said she had recently chaired a meeting of representatives from the Thai Government, nongovernmental organizations and international agencies, to discuss ways to facilitate health care provision for migrants and encourage migrants to register into the system so services can be provided.
The two also discussed the ageing of Thailand's population due to falling fertility and increasing lifespans. The Prime Minister said that in response to the declining birth rate, the Government has tried to encourage parents to have more children by providing tax exemptions and working with the private sector to provide day-care facilities. She welcomed an offer by Dr. Osotimehin for UNFPA to share the experience of other countries in addressing this issue.
The challenge of adolescent pregnancy was also addressed. On 30 October, UNFPA plans to release its State of Thai Population report on the subject, coinciding with the launch of the Fund's global report on The State of World Population 2013. 
Dr. Osotimehin thanked Ms. Yingluck for agreeing to attend the upcoming International Conference on Family Planning, in Ethiopia this November. He also extended an invitation from the UN Secretary-General to next year's high-level meeting in New York following up the 1994 International Conference on Population and Development.
#####
For more information, please contact:
Jeerawat Na Thalang, tel. +66 (0) 87-506-3065, nathalang@unfpa.org 
Wanpiya Techo, tel. +66 (0) 81-371-6103, techo@unfpa.org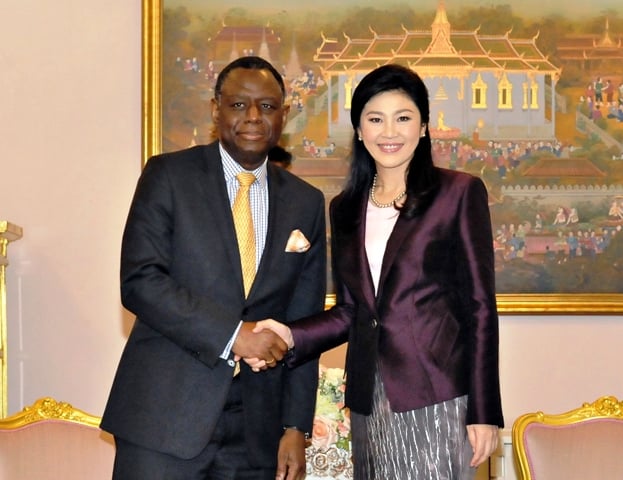 UNFPA Executive Director and Prime Minister Yingluck Shinawatra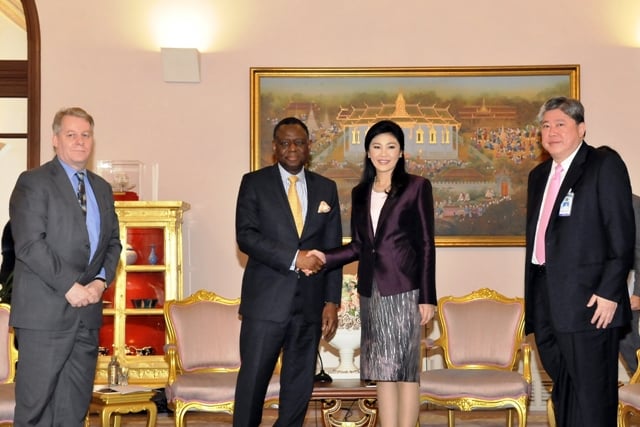 From Left: Mr. Caspar Peek, UNFPA Representative for Thailand and Country Director for Malaysia; Dr. Babatunde Osotimehin, Under Secretary-General of the United Nations and UNFPA Executive Director; H.E. Prime Minister Ms. Yingluck Shinawatra; and Dr. Pradit Sintavanarong, Public Health Minister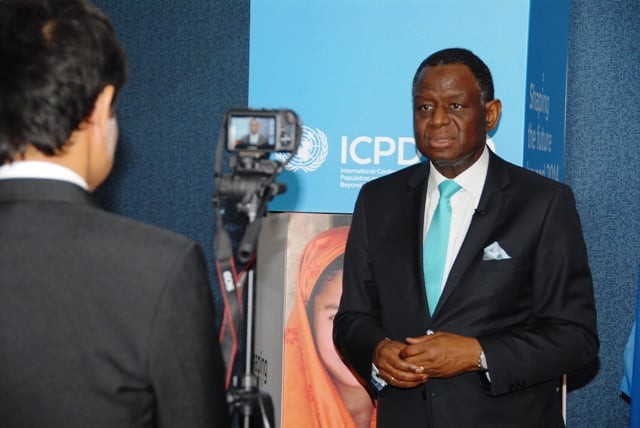 UNFPA Executive Director is giving a press interview
Photographs by Panyawan Suphasri