Events
Main events calendar
Past Events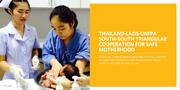 24 November 2017 - 24 November 2017
Khon Kaen, Thailand

จดหมายเชิญสื่อ
ไทย, UNFPA ร่วมอบรมผดุงครรภ์ลาวเพื่อลดอัตราการเสียชีวิตของมารดาในสปป.ลาว
เรื่อง    เรียนเชิญสื่อมวลชนร่วมพูดคุยกับผดุงครรภ์ลาวภายใต้โครงการความร่วมมือไตรภาคีแบบใต้-ใต้ระหว่างไทย-UNFPA-สปป.ลาวด้านสุขภาพมารดา วันศุกร์ที่ 24 พฤศจิกายน 2560 เวลา 08.30-11.30 น.
Details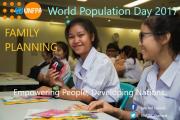 11 July 2017 - 11 July 2017
ฺBangkok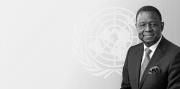 10 June 2017 - 31 July 2017
Bangkok
With profound sadness, UNFPA, the United Nations Population Fund, announces that its Executive Director, Dr. Babatunde Osotimehin, passed away suddenly at his home on the night of June 4, 2017.  He was 68 years old.
With heartful thanks, UNFPA Thailand appreciate messages below for condolences for the passing away of Dr. Babatunde Osotimehin, Executive Director of UNFPA, from our UN colleagues and our supportive partners. 
Details
Pages